G-PSK31 - The Linux GTK+ PSK31 Terminal Program
Have you looked at GPSK's successor
KPSK
yet?
Description
G-PSK31 is an new easy to use PSK31 Terminal Program, based on the PSK31-Implementation by Hansi, DL9RDZ and the GTK+ toolkit.
Features
Uses soundcard as modulator/demodulator
QPSK/BPSK modes
PTT over serial line (RTS)
CW identification
QSO data entry dialog
Macros (callsign, name, QTH, ...)
8 fix texts (F1..F8)
Different colors for TX/RX screen
Only one configuration file for all settings
Adjustable DCD level
Phase scope and spectrum analyzer for tuning
Nearly all functions can be accessed with shortcuts
Easy tuning (With shortcuts / clicking in the spectrum)
Type ahead buffer
Log to file / send file
Screenshot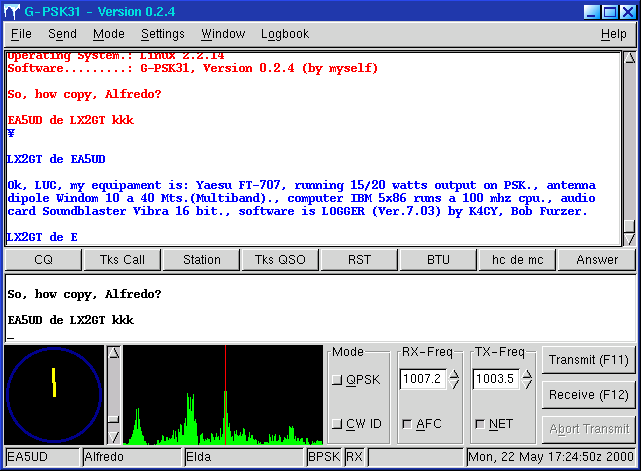 Documentation
Currently, the only documentation you can get is the README file from the package. But you should not have any problems, as most of the program is self explaining.
Download
If you want to compile you need GTK+ (≥1.2.0) and you should also have pthread installed. (G-PSK31 can also be compiled without it, but I suggest using it.)
Contact
You can reach me at luc@linkt.de.